There was an old friend of mine for 20 years who suddenly pissed off when I cannot chat or chat for long with him during office hours. I was surprise with his reaction and thought maybe he wanted to tell me something that might be disturbing him. Family or work problems perhaps? Well, he's all alone in KL while his wife and kids are in Melaka. I guess it could be boredom.All along, he tried to msn me or message me on facebook during office hours and most of the time I was busy while my network has blocked facebook chatting.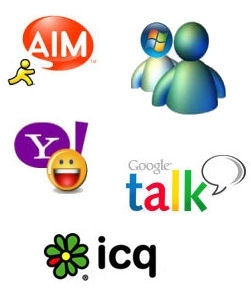 Well, I don't think it's my fault of my long friend's frustration but this taught me something. When you are busy, off your msn or disable chat in facebook or just logout from both. This is especially so when you are on those mobile chat applications where you may not 'heard' when someone message you. I still remember yesterday I am receiving messages from a friend on my phone even though I set my MSN to 'busy' while walking.
On the other hand, some folks have to be 'educated' that not everyone may respond to their IM and do not get offended if there are no responses. Sometimes it could be due to network problems, messaging blocked by the service provider(like those in companies), the recipient is 'physically' away but forgot to change the status or just busy with other thing while forgot to change their IM status to away or busy.
Have a good mid-week and enjoy the days leading up to CNY!